Folk Music Festivals in the UK
We are running an anonymous survey that asks about bullying, harassment, and the wider culture in the music industry and wish to hear from as many people as possible who are involved in the UK music industry. Just click on the image to take part.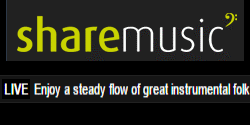 We are now updating the festivals for 2022. After last year's Covid problems, we are a bit behind with things, but WILL be adding events, and hope that more virtual events take place as well.
Use our earlier year links for just now.
If you are a folk / traditional / acoustic music festival organiser and your festival's site is not listed / updated, just drop us a line with the details that we typically display. (See the Contact page.)
The UK folk music scene is a large and vibrant music genre, with folk and traditional music clubs in almost every town in the the country. Folk music festivals are an important part of the folk or traditional music scene. They give artists a chance to showcase their talents to a much larger audience than the average folk music club will provide. I don't know anyone who has gone to a festival and not returned with news of some new band that impressed them. (Okay, a group that was new to them anyway.)
Finding a folk festival has now become easier. We aim to list almost all the festivals in the UK. If you know of one that's missing, do let us know, so we can update the lists. We have arranged the festivals by country and by date, as well as our famous Big List which covers all those festivals that we know about. Festivals starting within the next five weeks can be found on our This Month page.
The list of music festivals is initially compressed when displayed, to make scrolling through it easier. Clicking on a festival name expands the details to show the festival location, dates, ticket prices and a brief summary of the event.
Prices - concession prices, early birds, full adult and family prices would complicate our listings, so we tend to list either the full adult price, or the adult early bird price if it is available for a long time. Perhaps next year we'll list all of them.
We have taken a slightly liberal view in our interpretation of a folk festival, in an attempt to include as wide a variety as possible (we don't usually include dance only festivals, but there are a few). Better to have a wider choice than you wanted than miss out something that you would really like to know about. And we make a point of visiting every web site listed, to check the festival is on and the site is live.
And now we have a shop here selling folk music cds - give it a visit!
Some festivals that are starting soon.
Orkney Folk Festival
Location: Stromness
Date: Thursday 26th May 2022 for 4 day(s)
Full Price: £
Also available Individually priced events
Contact for info: info@orkneyfolkfestival.com
Website: www.orkneyfolkfestival.com/
County: Orkney
Country: Scotland
Bearded Theory's Spring Gathering
Location: Catton Hall, DE12 8LN
Date: Thursday 26th May 2022 for 4 day(s)
Full Price: £145
Contact for info: info@beardedtheory.co.uk
Website: www.beardedtheory.co.uk
County: Derbyshire
Country: England
Chester Folk Festival
Location: Kelsall
Date: Friday 27th May 2022 for 3 day(s)
Full Price: £0
Also available Day tickets £36 - 26
Contact for info: info@chesterfolk.org.uk
Website: www.chesterfolk.org.uk
County: Cheshire
Country: England
The Islay Festival of Music and Malt
Location: Isle of Islay
Date: Friday 27th May 2022 for 8 day(s)
Full Price: £
Also available Individual event tickets.
Contact for info: enquiries@islayfestival.com
Website: www.islayfestival.com/
County: Southern Hebrides
Country: Scotland
Chippenham Folk Festival
Location: Chippenham
Date: Friday 27th May 2022 for 4 day(s)
Full Price: £0
Also available TBA
Contact for info: tickets@chippfolk.co.uk
Website: www.chippfolk.co.uk
County: Wiltshire
Country: England
Galway Early Music Festival
Location: Galway
Date: Friday 27th May 2022 for 3 day(s)
Full Price: £
Also available TBA
Contact for info: info@galwayearlymusic.com
Website: www.galwayearlymusic.com/
County: County Galway
Country: Ireland
Member of a folk music club? Then help your fellow folk fans by placing a link to our site on your club's website, thus spreading the news about festivals in the UK to more folk music enthusiasts.
Help the music grow.